Chances of a synthetic ice floor in contemporary dance
Section 2 | material research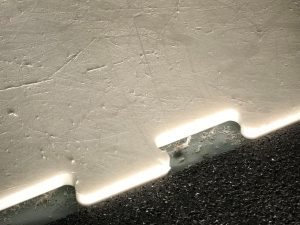 This research section focuses on the functional, sustainable, ecological, economic and health-related components of a synthetic ice floor.
The available synthetic ice brands were researched and compared with regard to their production, ingredients and additives used,
gliding properties, handling, durability, cleaning, maintenance, disposal and their health concerns.
The plastic pannels of LIKE-ICE! were able to convince me on all levels. I work with them since then.
LIKE-ICE! viewed from the perspective of…
Handling
The puzzle-like plug-in system of LIKE-ICE! is simple and relatively quick to assemble & disassemble.
Due to the three-dimensional connection system, the panels fix each other. Additional connecting elements are not needed. The 1 sqm large, 19mm thick and about 18 kg heavy LIKEICE! panels can be used both indoors and outdoors and can be connected depending on the location, room size and shape.
Lubricants are integrated directly into the boards during production. There is no need to apply an extra sliding layer to the surface. The sliding resistance on plastic ice is higher than on a water film on artificial or natural ice. More frequent blade sharpening is necessary. Cleanliness of the surface is critical to the life of the sharpness of the blades. It is relatively easy to clean by sweeping or wiping (with a little water if needed).
Learn more directly at LIKE-ICE!
Health
The antistatic abrasion dust produced by the friction of the blades on LIKE-ICE! is relatively small, very coarse and does not collect in the alveoli of the lungs or in the ground water. Abrasion particles are larger than fine dust particles and are coughed up like other dust particles. Abrasion that gets into the wash water via clothing is filtered out during water treatment.

LIKE-ICE! has no evaporation, also it works without the usual lubricating layer and the toxins this layers often contain. All ingredients used are free of harmful substances. LIKE-ICE! is safe for human health according to EU directives.

Learn more directly at LIKE-ICE!
Sustainability
Made of thermoplastic material, LIKE-ICE! is durable in its functionality and 100% recyclable. The resulting abrasion is disposed of with the residual waste via incineration plants. The calorific value of LIKE-ICE! even increases the efficiency of incineration.
The production of LIKE-ICE! is 100% ecological. LIKE-ICE! offsets all CO2 emissions generated during production and delivery. Without energy and water consumption, its use is 100% economical.
With its special, functional as well as environmentally conscious technology, the company supports social, integrative, scientific, sports as well as artistic projects.
Learn more about sustainability directly at LIKE-ICE!
Artistic Work
Due to the lack of cold, wetness and slipperiness, plastic ice can be used equally by artists with and without ice skates. Within the shared use, clean footwear of the skate-less artists is essential to maintain the sharpening of those dancing on blades.

The greatly altered glide requires a different skill in balance, more muscular effort, and last but not least, adapted forms of movement. The higher friction stops the blades faster, more "push-offs" are needed to maintain the gliding movement. The strong inclination of the body, which is possible when gliding on natural and artificial ice, is reduced enormously on synthetic ice and depends not least on the freshness of the sharpening. Working at speed is also more difficult to implement.

All this creates a prioritization of other factors as well as themes in artistic work and opens up new exciting perspectives:

places can be played in which basically no ice is suspected;
interdisciplinary work on the same ground is much easier to implement on plastic ice; the material "plastic" itself polarizes and creates thematic associations.